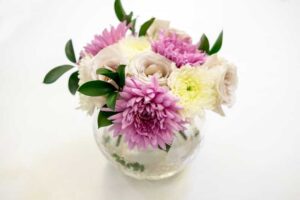 For some people, buying flowers is a luxury as they don't have a lot of spare money to spend. But, sometimes, you just want to send the flowers for someone. The good news is that there are many ways to get around buying the flower bouquet at your budget. The following are 6 tips on how to buy cheap flower bouquet.
Deliver the Flowers Yourself
When you buy flowers online, they will charge you a delivery fee. There are several shipping options like standard delivery or express delivery which will cost you more fees. If you want to save money, it will be best to just choose the standard delivery. Better yet, if there is a florist nearby, just walk in and buy the flowers. Then, you single-handedly deliver the flower to the person.
Don't Choose Add-Ons
Adding add-ons like balloons, candies and soft toys can quickly increase the price of the bouquet. So, if you have a limited budget, don't choose the one that has these add-on items. If you want to include them, you should be able to get them for cheap at a thrift store. Even adding a small note card will cost you a fee. You can make your own note card using a small piece of thick paper that is folded into half.
Choose a Bouquet with Lesser Flowers
The more flowers the bouquet has, the more expensive it will be. Therefore, you should not choose a bouquet with lots of flowers if you have a limited budget. Sometimes, it is not necessary to choose a bouquet with a lot of flowers to impress the recipient. Remember, giving a single flower stem is still counted as a flower gift. What is most important is that you give the flowers sincerely to the recipient. That is all is needed to make the recipient smile when he/she receives the flower gift from you.
Use Coupon Code
If you decide to buy the flowers online, you should always do some research to see if they offer discount coupon codes. To know which store has a coupon code, go to a coupon site like RetailMeNot and search for an online florist. It will then display a list of online florists that are offer discount coupons. It will be good enough if you can find a coupon code that gives you a small discount if you couldn't find the big discount coupon code that you are looking for.
Buy Flowers at the Local Grocery Store
Maybe the bouquets in the local and online florist shop are expensive for you. In this case, you can go to your local grocery store to buy flowers. Flowers at the grocery store are usually older and opened already. This is in contrast to flowers in the florist shop which are fresher and closed.
If you send to the recipient, he may get a chance to watch the flower opened as he keeps them in a vase with water. However, if the recipient doesn't mind about it, then it is alright to send him flowers. Still, it is recommended that you check how old is the flowers to avoid buying one that is too old and wilt fast. If you want to know how old the flower is, you can squeeze the bulb at the bottom. Tight bulb means the flower is still fresh.
Choose Local Flowers
Choosing to send local flowers will save you money. Imported flowers are usually expensive because of the import fees. If you want to buy imported flowers at cheap price, wait until there is a promotion, for example, a special occasion that uses the particular flower for celebration. Some of the cheapest flowers are gerbera daisies, lilies, and Alstroemeria.